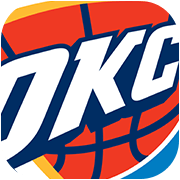 Oklahoma's NBA, The Thunder
The Oklahoma City Thunder have released their new 'City Edition' uniforms for the upcoming season.

For the first time, only the name "Oklahoma" will appear across the chest of the Thunder's jersey. The all caps black lettering is similar to the font on the state flag.